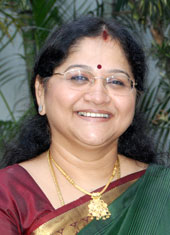 Dear All Greetings!
Annual examinations, ever-increasing summer temperature and rabble-rousing election campaign , yes it is a contagious scenario. Right from the petty shops to big the industries everyone is waiting for the election results to take a right decision.
But, the work at Kalyanamalai goes unaffected as usual. We are aware neither the election nor the weather or economic conditions will have any bearing on those who search for a suitable bride or groom for their son or daughter. That is why we arranged 'Kalyanamalai's Kalyana Kondattam' grand show on March 15th and 16th at Chennai Trade Centre, Nandambakkam.
Athithi the wedding planning unit of Kalyanamalai was having the first stall at the entrance of the exhibition. It was able to share the details about Athithi to thousands of visitors who bee-lined at the stall. Kalyanamalai Mohan, made it a point to stay at the Athithi stall and in another stall organized to enroll new members for Kalyanamalai on both the days. A good number of visitors met him, sought his advice and got benefited when he shared his experience.
Kalyanamalai is now working even on Sundays tirelessly without rest to assist the parents who are seeking a suitable bride or groom. We know the parents do not mind Sundays or holidays and stop their search to find a suitable match for their son or daughter. Kalyanamalai joins their pursuit unmindful of holidays to help them to get a suitable match for their loved one.
On this auspicious Chithirai new year day, I pray to the almighty, to bless every one who is waiting for a marriage, with a suitable bride or groom and marriage celebrations at their home.
With love
Meera Nagarajan
Editor
More editor's pages
KM Matrimony Best Services –