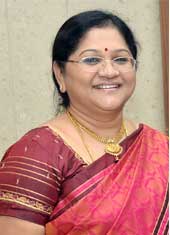 Dear All
Greetings!
You may remember, in the last issue I wrote about the importance of celebrating festivals and how they in turn will help our next generation to know our culture and its values. On reading it one my close friend had called me and told me that it will not be possible to celebrate all the festivals while we all lead a very busy life.
During the next two weeks Kalyanamalai is going to have its Pattimandram and shooting programs at six cities in the USA. All of us are very busy with making arrangements for travel, selection of speakers at the USA to participate in the pattimandram programs, selecting topics for discussion, booking of tickets for travel from Chennai to USA and back and travel arrangements in the USA, hotel bookings for stay and more. The works to be completed here in India as well as at the USA are consuming lot of time. Navarathri came in between, Kolu was arranged at home, invitations sent, and poojas performed. Yes we celebrated the festival with the usual fun associated with it in spite of our busy work related to the USA trip. I do not want some one to question or even think that I only preach and don't practice.
I think the question asked by my friend was right. But I find a difference between reasonability and rule and I don't want to compromise on my reasonability and allow the rule to win over.
We actually enjoyed the stress of the USA program arrangements and the celebrations of Navarathri festival together.
I will meet you all here again during the Deepavali celebrations after completing the shooting in the East Coast of the USA.
We are aware your best wishes will help us to achieve success in the USA trip and we seek it now.
With love
Meera Nagarajan
Editor
More editor's pages
KM Matrimony Best Services –