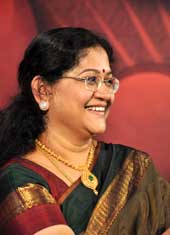 Dear All
Greetings!
The only occasion where the common man will forget about the reducing rupee value against the dollar, the ever increasing price of gold and other problems is the festival season. Though he may find it difficult to manage yet he will try to celebrate it.
In one way I consider the sentiment as right. Because if we stop celebrating the festivals on one reason or other then the next generation will never come to know the reason and value of such festivals. Our ancestors had preserved such celebrations for generations and passed it on to us. Unless we celebrate the festivals it will be difficult for the next generation to understand the tradition behind such celebrations.
Let us not confine ourselves to just earning and giving a decent life to our family, let us also learn to follow our own traditions by understanding their meanings and pass it on to the next generation. It is our duty to preserve the individuality of our own language, family traits, and the national heritage and pass it on to the next generation. It is as essential as bequeathing our own earned property to our next generation.
Navarathri has come and it will be followed by Deepavali, Karthigai and other festivals. Let us celebrate all the festivals within our means with family and friends and share the tradition of festivities with the next generation.
With love
Meera Nagarajan
Editor
More editor's pages
KM Matrimony Best Services –