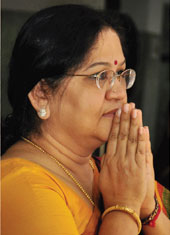 Dear All
Greetings!
We at Kalyanamalai always trust and follow the concept of joint prayer. It is our unshakeable belief that  it is easy to accomplish any unachievable through a joint prayer.
Marriage is always considered as a happy but a challenging affair. The challenge starts right from the day a girl or a boy get an idea to marry. It continues in identifying the right partner, confirming the mutual liking, performing of the marriage and finally its uninterrupted existence. It never was an easy task to appreciate it and keep up it.
Especially the challenges have multiplied in the modern era. Despite all the odds nearly 90% of the couple were able to choose a good life partner and marry. We believe the blessings of the god is the driving force for such an achievement.
Kalyanamalai, as a matrimonial agency, assists in the fixing of a number of marriages every day and thousands of marriages every month. It wholeheartedly believes that such a feat has become possible because its efforts always receive the blessings of god.  Since,it especially believes that arranging of mass prayer for a cause multiplies such benefits,  Kalyanamalai regularly organizes 'Vivaha Prarthana' a joint prayer for the benefit of the alliance seekers.
We invite all the alliance seekers to attend one such Vivaha Prarthana arranged on 8th December at Jaigopal Garodia High School, Tambaram. Come and take part in large numbers with your family in the special poojas arranged and have sangalpam performed for an early marriage. Get your marriage fixed with the blessings of God.
With love
Meera Nagarajan
Editor
More editor's pages
KM Matrimony Best Services –