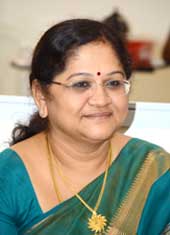 Dear All
Greetings!
The Getti Melam program arranged by Kalyanamalai at Vijaya Mahal, T.Nagar on 9th and 10th of March went off very well. A detailed write-up on the event and photos are available in the book as well as in the www.kmmatrimonmy.com web site. It is worthwhile to mention about the very effective participation of RmK in the program. They have played a stellar role with their display and prizes for the participants to keep the public engaged.
Kalyanamalai has made meticulous arrangements to hand over the matching color profiles to every participant within 30 minutes of the registration. Every participant appreciated the quick registration and distribution arrangement for profiles.
Most of the people used to wonder and some of them even have asked us how we effortlessly manage to organize bigger events such as Getti Melam in addition to regular organizing of the smaller events at various locations. The answer is very simple 'all the events are discussed in detail and planned at the top-level,and carried out in coöperation of the honest and hardworking staff.
Kalyanamalai is busy making arrangements for the shooting arranged in Mumbai on 16th of this month. We dedicate all our success to our staff who consider right way of working as their right.
With love
Meera Nagarajan
Editor
More editor's pages
KM Matrimony Best Services –