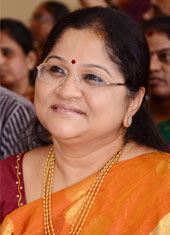 Dear All
Greetings!
Recently, Kalyanamalai has offered me some of the biggest opportunities to interact with people to understand their mindset and their sentiments.
I could appreciate how much of all of them are concerned and worried about the problems in bringing up their children and assist them to settle down into their life peacefully.
Today, the life of a common man is not worthy of mentioning or feel elated about. They are struggling to lead a life even without getting the basic amenities such as adequate food, medical facility and good education to their children. Unfortunately these basic amenities continue to elude them and remain beyond the reach of most of them.
The price of rice, dhall, cooking oil and vegetables has gone up beyond the reach of the commoner. The families that were spending Rs.100/- toward the purchase of vegetables a few months back are made to pay Rs.500/- for the same quantity. In the days, when a nutritious vegetable meal has become a luxury, what a common man will eat to meet his health requirement?
Next are the medical facilities. Most of the present day hospitals has formed an opinion that only the rich and affluent are worthy to get treatment for their disease and not the poor common man who cannot afford to pay for the hospital fee and medications. Even to save a life from the clutches of death one has to pay heavily.
Education also has become very costly. Even to join an ordinary graduate course one has to pay around one lakh, technical education costs more than that, engineering education is still costlier and less said about the cost of medical education is much better. Every student who joins a medical or an engineering course develops a mindset to take out the money spent on his/her education as quickly as possible. They start making a fast buck without caring for the society. When our educational system is fit enough to develop only such a type of end product, how do we can dream to make a healthy society or have a healthy future?
There will be no solution for this perennial problem, unless all of us take a staunch resolution to save the society.
Let us do it.
With love
Meera Nagarajan
Editor
More editor's pages
KM Matrimony Best Services –