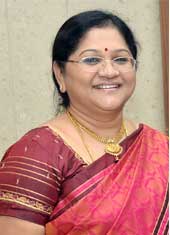 Dear All
Greetings!
Marriage is an important happening in everyone's life. In order to make such an occasion memorable, we need to take proper decisions at every stage. It starts with the identification of a suitable life partner and ends with the arrangement of the marriage. It is crucial to take right decision at every stage, to start the marriage life happily and to continue it with auspicious life events.
Kalyanamalai, devotes its maximum efforts in getting the right partner for everyone registered with it in order to achieve a successful married life. It also organizes marriages using the services of its wedding planner unit Athithi. Most of you may be aware that Kalyanamalai Thiru Mohan has been engaged in providing catering services since 1984. Recently he has formed Athithi as a corporate entity linked with Kalyanamalai to offer better services. Parents who have benefited by the Athithi services are regularly sharing their happy experience in Kalyanamalai Magazine.
It is a fact that marriage halls play a crucial role in the success of a marriage. There are very few marriage mandapams in Chennai that meet the basic needs, such as a convenient marriage conducting hall to accommodate large number of guests, spacious dining halls, clean toilets, convenient guest rooms and adequate car parking facility. Parents who look forward to perform the marriage of their daughter or son in a fitting manner and who do not get the halls with the mentioned facilities try to book other halls and adjust with the available facilities while conducting the marriage.
Considering the ordeals of the parents in finding a right marriage mandapam with all the basic amenities, Kalyanamalai has formed a concept known as 'Athithi Vivaha Homes'. It has taken a number of marriage halls irrespective of their size for lease and improved their facilities to assist the marriage conducting parent.
The present arrangement will enable the marriage Mandapam owners, to join the Kalyanamalai lease scheme to perk up the facilities at their Mandapam to offer improved satisfaction for the parents booking the mandapam. Similarly, parents can reach Kalyanamalai to book a decent marriage hall with all the facilities to conduct the marriage of their dear or near ones.
Kalyanamalai takes every step of its in the right direction to fulfil the marriage dreams of the parents.
We wish all our patrons and parents a Happy Vijaya Tamil New Year.
With love
Meera Nagarajan
Editor
More editor's pages
KM Matrimony Best Services –